AnandTech | Intel Iris Pro 5200 Graphics Review: Core i7-4950HQ Tested: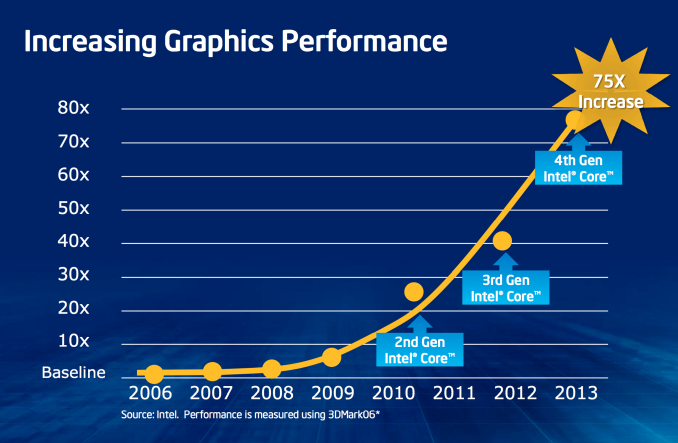 Looking at the past few years of Apple products, you'll recognize one common thread: Apple as a company values GPU performance. As a small customer of Intel's, Apple's GPU desires didn't really matter, but as Apple grew, so did its influence within Intel. With every microprocessor generation, Intel talks to its major customers and uses their input to help shape the designs. There's no sense in building silicon that no one wants to buy, so Intel engages its customers and rolls their feedback into silicon. Apple eventually got to the point where it was buying enough high-margin Intel silicon to influence Intel's roadmap. That's how we got Intel's HD 3000. And that's how we got here.
It's amazing how Apple has influenced the tech industry over the last decade from the logistics side of things. Everyone knows (well, everyone but the most diehard Google fans) that the iPhone is what made Android go from this to this and that ultrabooks wouldn't  be a thing without the MacBook Air.
How many people know that Intel decided to make chips actually capable of playing and editing high-definition video and playing PC games with decent frame rates because Apple made them to it?